In our cozy Indiana home, we always opened our Christmas gifts on Christmas Eve. Not because my brother and sister and I couldn't wait until Christmas morning, but because our Mom couldn't wait! We kids did agree that opening gifts as soon as possible was a great plan. Since we were evidently one of the first houses on the route, we would have to hide in our rooms to let Santa do his work. I remember looking out the bedroom window, convinced that I could see something in the sky that sure looked like a sleigh pulled by eight tiny reindeer. And never mind that we had no chimney. We knew that Santa could make things happen no matter what.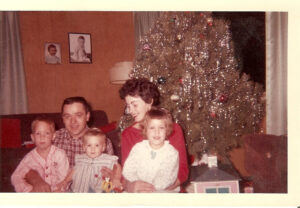 Holding on to that Christmas joy, July 25th is a bonus Christmas celebration for our church this year! It's either the earliest or the latest that I've ever celebrated Christmas. What a great reminder that we can open God's gift of love on any day and that Jesus calls us to share God's love all year long. To help share that love, we are invited to give a special Christmas in July gift to support the ministries of the church and reach out in love.
Later on Christmas Eve, we would pry ourselves away from our new toys and drive to the church for candlelight worship at 11 pm. It was a long wonderful day, but we could sleep as long as we wanted on Christmas morning. Hmmm… Maybe that's what Mom had in mind all along…
Wishing you Christmas joy in July!
Pastor Patty