Nor do people light a lamp and put it under a basket, but on a stand, and it gives light to all in the house. In the same way, let your light shine before others, so that they may see your good works and give glory to your Father who is in heaven. (Matthew 5:15)
At First Methodist, we believe that we all have gifts to share. We share those gifts in two ways. The first is through the spiritual discipline of tithing, which is giving a percentage of your income to the Church. This monetary gift, along with offerings, supports the mission and ministry of our church in the world.
For secure online giving
Thank you for supporting the ministries of the church. You can also
click here
to learn more about the spiritual discipline of tithing and to find out about opportunities for special offerings.
Service is the other area where your gifts can bless the world. First Methodist supports many
missions
in McKinney, across Texas, and all around the globe. You can help by giving financially to our missions and by volunteering to work in the community. To explore current and ongoing service opportunities, please visit our
Volunteer Opportunities
page and the
Serve
page.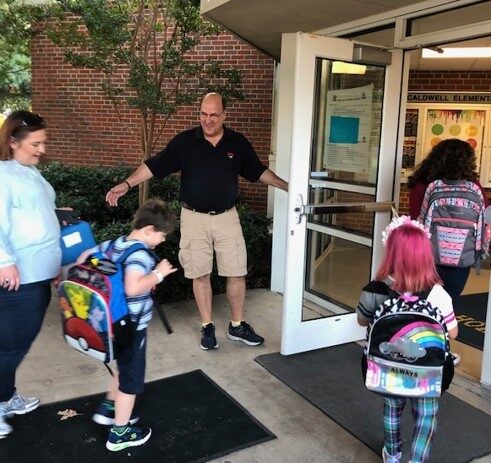 Pastor Tommy greets students on the first day of school at Caldwell Elementary, 2018.
In whatever ways you choose to give and serve, you can share your light. Together, we will share the heart of Christ from the heart of McKinney.