Music for Children and Youth
Music enhances children's Christian education by providing a positive, developmentally-appropriate environment to learn to worship God through the power of music. Children of all ages are able to use their love of singing and music to participate in the ministry of the church.
Children's Music
Children's choir is on break for the summer! Here's a letter to parents from Ms. Eunice:
This year has been wonderful! We have seen a wonderful increase in commitment to this ministry and we love it! We have had a consistent attendance of at least 20 children every Sunday! Many times, it has been closer to 30. This has been fundamental to our growth as a singing family in Christ. They have learned so much, especially to love each other, have fun with each other, and to praise our Lord together.
I hope to see them back at MAD Camp in July! Please do not forget to sign up!!! It is going to be so much fun!
Choir rehearsals will resume Sunday, August 27! Have a blessed Summer!
Much love,
Ms. Eunice
Youth Music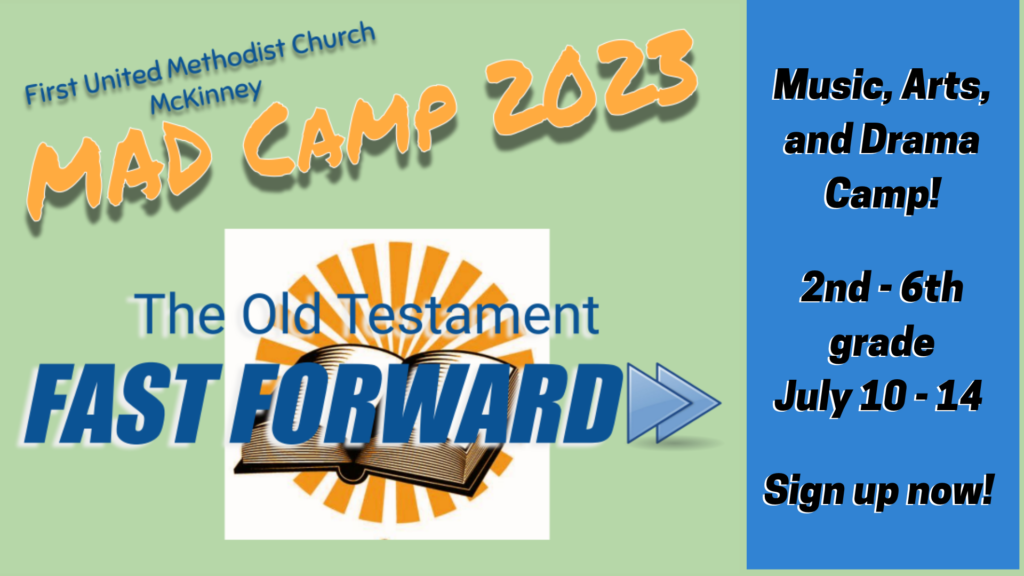 What: Music, Arts and Drama Camp
Who: Children entering 2nd to 6th Grades
When: July 10 to 14
Where: First United Methodist Church of McKinney
Times: 9am -12pm
Cost: $10