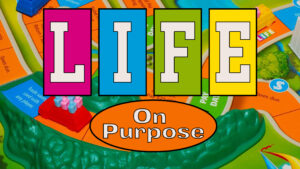 Some would say they live life on purpose, but what exactly is that? Is it having fun? Is it making money? Is it building a family or a career? What is it? Would you say your life is driven by design or default? Are your actions and outcomes shaped by intentionality or according to the demands of your schedule and the expectations of others?
We believe life has a purpose beyond our daily routines, and when we live on purpose, we experience the fullness of life. That is what the series Life on Purpose is all about. We'll explore what it means to live with intentionality and look at practical ways to take your purpose and turn it into a life of significance.
Use the sermons and corresponding worksheets below to life a life on purpose.
January 9, 2022
Jesus was clear about who he was and what he was called to do in life. The things you want most in life, the things God wants most for you in life are on the other side of clarity. It's time to clarify your purpose!
January 16, 2022
Knowing and doing are two different things. Knowing your purpose and living your purpose are not the same. Jesus took daily action to live an intentional life that glorified God. It's time to take action on your purpose!
January 23, 2022
We all face obstacles, even Jesus. So what do you do when facing obstacles? How will you use them to help clarify your purpose and grow forward in the things that matter most? Now is the time to face the challenges and overcome them for God's glory!
January 30, 2022
Yes, you're living life on purpose! Can you imagine what your future will look like as you continue to take daily intentional actions in pursuit of your purpose…it's going to be amazing. It's time to live big, love big, and make God's name big!