To the parents of McKinney Youth – we are thankful for you, your families and your commitment to this church and youth group! We are here to be support for you in any way we can. We know there are a million things on your lists and calendars. This page is intended to be THE place with all the information, links, forms, etc. that you need for your youth. We are praying for you and your family as we continue to move into a closer relationship with each other and with God.
ONGOING SIGNUPS & FORMS
We need a medical release form for every active youth. If they are on/off campus with us at anytime during the year, we need a release for them. You only have to fill this form out once, unless there is a change in insurance.
The proceeds from this coffee bar go directly to the First UMC youth group as fundraiser that provides scholarships for youth who want to continue their journey with God at a number of youth events. The Youth Ministry is responsible for working the odd months of the year.
In an effort to streamline our dinner teams this year and make sure our youth are loved and well fed we are creating a system to help keep us organized. The specific youth event is listed and approximate servings needed are also included with the sign up.
CURRENT REGISTRATIONS
BRIDGEPORT SUMMER CAMP
We are attending the Mixed-age camp this summer! It's June 26-30. Registration opens tomorrow, January 4 @ 9 a.m.! Register & pay $50 deposit by Jan. 31 for early bird rate, $375.
We also need adults to come be counselors. Reach out if you are interested in going to camp with us!
UMARMY Save the Date | July 9-14 | Round Rock
It's time to register for our summer mission trip! We will be taking youth that have completed 6th-12th grade to Round Rock for mission with other youth groups! U.M.A.R.M.Y stands for United Methodist Action Reach out Mission by Youth. We are excited to be together in mission with this organization again this year!
You will
REGISTER
through UMARMY portal and Dedire will send you a link to make payment.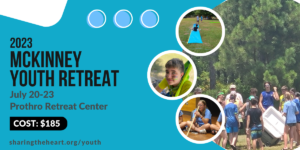 McKinney Youth Retreat | July 20-23
This retreat is for current 6th-12th grades. Join us for a long weekend at Prothro Retreat Center for fun & discipleship! Cost is $200, that covers lodging, food, fun & t-shirt!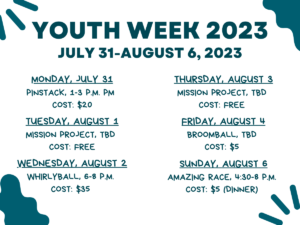 Youth Week 2023 | July 31-August 6
Join us for a week of fun and missions! This will be for those that have completed 5th grade in May thru graduates of 2023. You can sign up for just one day or all of them, whatever you're available for!
YOUTH SOCIAL MEDIA
Make sure you are following us on social media to stay up to date, see pictures and connect with us!
YOUTH CALENDARS