Our congregation is involved at Caldwell Elementary in many ways. We are blessed to have "adopted" this Title I school that is just down the street from our church.
The mission of Caldwell Elementary, the foundation of excellence for the future in the heart of McKinney, is to inspire and empower all students.
Our mission is to share the heart of Christ from the heart of McKinney. Caldwell is a perfect partner!

We have been asked to help with a new volunteer need from 4th Grade.
They are looking for volunteers to read with children in the morning from 7:30-8. The children eat their breakfast during that time so the volunteers would need to show up a little before 7:30 to check in and be at the classroom by 7:30 to meet the child.
Volunteers can read to the children or have the children read to them. They are hoping to support the students emotionally and socially, as well as academically. There are two classes of kids and would love to have two volunteers per morning.
CLICK HERE to email Pam Parmley
to sign up. You will also need to
fill out an MISD volunteer form
.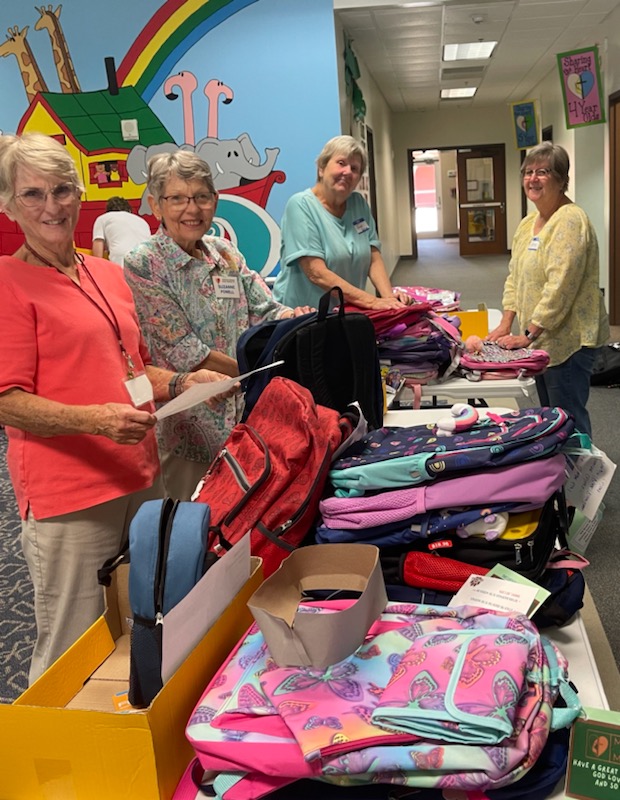 We provide backpacks and supplies for Caldwell during our Very Caldwell Christmas in July!
Mentoring at Caldwell Elementary
First Methodist loves to mentor at Caldwell. This is a huge gift that doesn't take much time. You can have lunch, play a game, or read with your student. Many mentors stay with their child throughout their time at McKinney ISD. Want to learn more or get help signing up? Email Pam Parmley. You will need to fill out the online forms through MISD (info is below).
How do I Become a Mentor? (NOTE: This information is from McKinney ISD)
Opportunities to mentor are available at all McKinney ISD campuses. All McKinney ISD volunteers are required to complete the online McKinney ISD volunteer application. When filling out the volunteer application please make sure to select "REACH Mentor" for your volunteer capacity.
If you need any assistance in completing this application, please contact the McKinney ISD Human Resources Department at 469-302-4117.
If you are a returning mentor, please contact our office to facilitate your start date at a campus. Remember that the application is a yearly process, so you may need to complete yours for 23-24.
If you are a new mentor, please contact our office to schedule a one-time, one hour orientation session.